SHANE'S PHOTO BLOG
Underwater photos by Shane Gould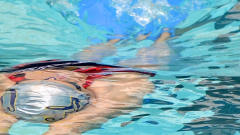 Shane expresses her love and feel for the water through her unique aquatic experiences and photographic perspective.
Swimming is about a multitude of sensations, what the water feels like and how we respond. Sensations such as slippery, light, smooth, thick, caressed, playful, harmonic.
We can use our body 'brains' to gather information about the water. Absorbed by the dynamic nature of this, we 'read' the water with all our senses. Swimming becomes an
art when the physical mind is engaged with the water. High performance is an optional extra.
"THIS SWIMMING FEELING" an Exhibition in Sydney at the Underwater Australia Gallery March 2006, are of swimmers paying attention to their body
interacting with the water, during coaching sessions. Intensive learning moments, about their
relationship to the water.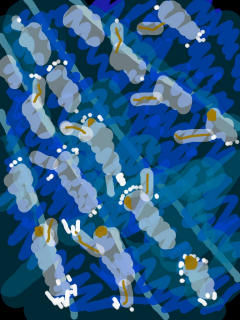 We see a foot print of their influence on the surroundings in the patterns shapes and movement of displaced water.
I am hoping the viewer by engaging with my photo art will gain more appreciation to see and imagine more when watching swimmers and ultimately
an increased awareness and enjoyment of personal swimming experiences.
These photographs are available for sale.
ART OF THE OLYMPIANS
Shane joins other Olympians to exhibit her art with
Art of the Olympians is dedicated to demonstrating the very real relationship between art and sport to the general public. The athlete artists have the ability to express this because of their many years of well directed training for sport and the transfer of this same discipline to their art. It is our intention to establish a touring exhibition of artwork by Olympian Artists in order to illustrate this sport-art association and in doing so create a greater understanding on the part of the student of what it takes to succeed in most avenues of life. The Olympic Games from their inception have been a celebration of human capability and Art of the Olympians emphasizes this celebration in the form of art as the Olympic founders intended.