Shane's Autobiography - Tumble Turns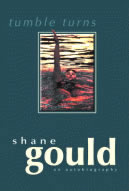 Price: $20.00
Accolades for "Tumble Turns" (1st edition) by fellow athletes / coaches:
"Shanes book is a brilliant read. Its such a moving story, and a worthwhile one too - everything she says mirrors my experiences as an athlete. Her book is a must for any parent with a potential champion in the family." -- Raelene Boyle

"This book was difficult to put down! Shanes problems are lifes problems, magnified by her early sporting fame and her chosen lifestyle. She has led an exceptionally rich and varied life - its an inspiration to ride along with her on the bumpy but exhilarating journey." -- Ursula Carlile
"What an enthralling book. This is the best autobiography by a sports champion I have ever read. Shane Gould was our greatest swimmer and this tale of her problems in coming to terms with fame at such a young age is compulsory reading for all associated with sport and will be of great interest for those who are not." -- Ron Clarke
"I couldnt put this book down. A very interesting story behind a great Australian." -- Susie ONeill
"A remarkable story of honesty and courage that gives us a rare insight into what it takes to be a champion of life." -- Murray Rose
So, whats it all about?
At last! Australia's most perplexing sporting secret is out. We now know why Shane Gould, possibly the greatest swimmer this country has ever produced, retired at the peak of her career.
A tumble turn is the radical manoeuvre a swimmer uses at the end of the pool, to completely change direction. Shane's book tells of many such alterations of course, from her happy childhood in New South Wales, Fiji and Queensland to the triumphs of the Munich Olympics, the challenges of being "public property number one" as a 16 year old, her marriage to Neil Innes and their sustainable lifestyle on a small farm near Margaret River, to her present day "re-emergence" into the commercial world and the world of swimming.
Tumble Turns - Review by Roger McMillan, writer and fellow swimmer.
This is not an aseptic and superficial coverage of an athlete's career, as told to some faceless sporting journalist. It is open heart surgery on Shane Gould's entire life, as told by Shane Gould in Shane Gould's own words.
It is delightfully written, in an open and ingenuous style, allowing the readers to draw their own conclusions and judge as they see fit. Shane makes no apologies and apportions no blame for the sometimes traumatic periods of her life. What emerges is a complex character who, from an early age, was subjected to stresses and experiences that would leave many of us in a straight jacket. We discover a responsible and studious girl who trained hard and did as she was told, but who couldn't resist the urges to indulge in harmless pranks.
Whether it was playing hide-and-seek with a young American swimmer in the darkened tunnels of the Olympic Village or getting lost while day-dreaming on horseback in the Bramley Forest, life's simple pleasures were never going to pass her by.
Shane's life has been dominated by three very strong-willed men. Her father, her coach, Forbes Carlile, and her husband, Neil Innes, all loved her deeply and all fervently believed they were doing what was right for her. But this is one Goldfisch (as the German press christened her at Munich) who cannot be confined to a small bowl and who cannot be told in which direction to swim.
The book goes into detail (for some, perhaps uncomfortable detail) of Shane's marriage breakdown. While the picture she paints of her husband is not always complimentary, a clear image emerges of a man who was forever constant in his attitudes and actions. Neil Innes had "saved" Shane from the impersonal commercial exploitation of her swimming success. He was therefore hurt by her occasional public appearances as "Shane Gould the swimmer" which he felt were incompatible with her role as "Shane Innes the wife and mother".
Unfortunately for Neil, and fortunately for the rest of us, Shane Gould the swimmer is too strong a personality to subdue. Having made so many tumble turns in her life, she is now swimming strongly down a broad lane of opportunity where she finds time to inspire and motivate those around her while using her public persona to campaign for drug-free sport, a corruption-free Olympic movement and the provision of "life skills" to young athletes.
"Tumble Turns" is a book which will appeal to a broad readership. Sports enthusiasts will devour the insights into the Games village and the pressures to perform. Women will find inspiration in the struggle against normal and abnormal pressures. Margaret River residents will recognise many people and places, and will either cringe or chuckle at descriptions of the Innes family running riot in Darnell's Store.
Whoever you are, your life will be enriched by this fascinating autobiography of a great Australian.