Devil of a Swim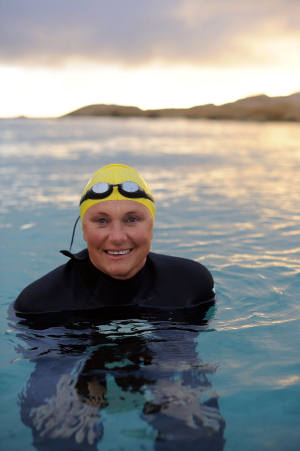 Sunday 6th April 2014 Bicheno East Coast Tasmania
10am start Waubs Bay Beach
Social and competitive swimmers, novices too

Highlighting the plight of the endangered marsupial Tasmanian Devil and remembering the aboriginal heroine Waubadebar.
1k, 2k in Waubs Bay $15 entry
Novice/kids event $2 entry
8am START advance entries only, new Rules - need a paddler with you

The main event!

5k Swim:

out to and around Diamond Island

Training swim in January TBA

across sandbar (tombolo) and back. $35 entry

A very fast total swim is 1 hour - Peter Thompson 2010

Time limits apply. All swimmers need to be at he halfway point

(land side of the island) by 50 minutes

Supported by Surf Life Saving Tasmania

Profits go to local Bicheno Nippers club.

Prizes if sponsorship obtained

Certificate of completion.

Sausage sizzle lunch by Lions or in town at any of the great cafes
About Waubadebar
Located on Tasmania's East coast, 195 kilometres north-east of Hobart, Bicheno was established as a whaling centre as early as 1803. It was at this time that the sealers and whalers arrived and began using Waubs Boat Harbour (one old name for Bicheno, another was Old Fisheries) as a base for their activities on the east coast. The sealers and whalers actually pre-dated the first official settlement of Van Diemens Land. They lived a primitive and dangerous life and were known to be particularly cruel to the local Aborigines who they enslaved and prostituted.
The name "Waubs" is an abbreviation of "Waubadebar" a female aborigine with an heroic and tragic life. She was probably from a band of the Oyster Bay (Paredarerme) tribe living nearby.
A strong swimmer, she saved two white men from drowning by swimming them to shore one by one, when their boat was smashed against the rocks during a storm. It was rare for any honour such as a place name to be bestowed on an aborigine.
Her grave is located at the back of the Lions Park, near the Silver Sands Hotel. The headstone reads "Here lies - Waubadebar a female aborigine of Van Diemen's land, died June 1832, aged 40 years." She died in a boat off the coast whilst travelling towards the Furneaux Group of islands and her body was brought ashore and buried. John Allen, an early settler, in his notebook, dated 24th June 1840, mentions "Waubs Harbour". Sufficient was thought of her memory for the local settlers in 1855 to contribute funds to erect a headstone.
The Devil of a Swim is in honour and memory of Waubedebar, as I presume her rescue effort was 'a devil of a swim'.